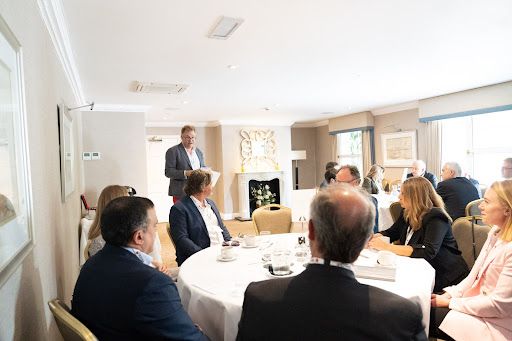 INSIGHT SESSION IN JERSEY - TRENDS FROM THE MIDDLE EAST


Back in Jersey in June, we gathered a group of leading professionals dealing with wealthy families in the Middle East to get the inside track on how they are dealing with their clients and issues arising. Legal, tax, fiduciary and wealth management sectors were all represented from key firms in Jersey & London. Their insight provides a useful guide to anyone exploring more business opportunities in the region.

We are back in Dubai & Riyadh in November 2024 and look forward to sharing more insight in future editions.

Serious people: Navigating the transfer of wealth in the Middle East


"You are not serious people". When patriarch Logan Roy looked his offspring in the eye and said these words in the final season of Succession, he unleashed the year's most popular meme. He may also have voiced what many baby boomers are quietly thinking of their millennial successors as wealthy families all over the world gather to address the issue of inheritance and succession planning. Such are the intergenerational myths and misconceptions that private wealth professionals must navigate as the greatest transfer of wealth in human history gets underway.


Wealth planners, tax advisers, accountants, lawyers, trustees and others have a vital role to play in shepherding the estimated $4.4trn of global wealth from baby boomers to their millennial children over the course of the next 20 years. Conversations between holders of wealth and their familial beneficiaries about inheritance and succession are rarely just about money. Advisers must navigate the emotional, cultural and interpersonal differences that simmer under the surface of any family business.


These issues are particularly pressing in the Middle East where a higher percentage of the region's most important companies remain family owned. It is estimated that 90% of private sector companies in the region have a family component. As a result, $1trn of assets – a fifth of the region's GDP – will be transferred to the next generation by 2030[1]. Despite these huge figures, the majority of HNWIs in the region have no succession plan in place for their businesses.


This is both a challenge and an opportunity for advisers and wealth professionals working, or looking to work, with families across the region.


The challenges of succession planning in the Middle East


The movement of wealth from one generation to another is nothing new. What, therefore, makes the current transition so unique (and potentially so perilous), and why must advisers think differently when working with families in this region?


Historically, family businesses in the Middle East have approached succession in an unstructured way with the more junior family members rarely questioning the decisions of their parents and older relatives. The culture of addressing conflicts only as and when they arise has created a landscape in which 95% of family businesses struggle to remain profitable going into the third generation. Family businesses, being so important to the Middle Eastern economy, alongside the historic volume of wealth that is now in transition, means that such levels of decline could have implications for the growth outlook of the region.


The stability of these businesses is, therefore, crucial for the economic health of the countries in question, making companies' succession plans a matter of public interest.
Last year, Dubai's Crown Prince, H.H. Sheikh Hamdan bin Mohammed bin Rashid Al Maktoum, committed to focusing on the long-term viability of family businesses as a means of attracting new global economic opportunities. To further this, the UAE enacted a family business ownership governance law that aims to bolster the economic contributions of family businesses and streamline succession planning. The new laws align with global standards, formalising the business structure for these enterprises, and restricts share sales outside the family without internal approval.

Integrating next-gen values


It is increasingly common for wealthy Middle Eastern families to educate their children in the US, UK, or Europe. As a result, new family business leaders tend to be more globally connected than their parents or predecessors. They bring to the boardroom more diverse views on wealth and investments, often with a passion for tech, ESG, philanthropy and impact.


A survey carried out by Stamford Business school last year, found that approximately two-thirds of millennial and Gen Z investors are very concerned about environmental and social issues and are willing to sacrifice 6-10% of their financial return for long-term social and/or environmental outcomes. In contrast, about two-thirds of investors aged 58 and older are only somewhat or not concerned about these issues and are unwilling to sacrifice any investment returns for non-financial gains. In the Middle East, founders – typically educated within the region – hold differing financial values to their children and, therefore, find it challenging to relinquish control to a generation with such different perspectives.


The divergence in attitudes between generations also extends to long-held frameworks, such as Shariah law in investments and wealth structuring. The younger generation are less concerned by Shariah principles and inclined to scrutinise the interpretation of what makes an investment Shariah-compliant. This generational disparity poses challenges for family wealth planning and requires sophisticated advisory services that can cater to these differing needs while respecting long-established mandates.


Against this backdrop, the first challenge for advisers is often convincing both parties that planning matters. Many family issues that had previously been assumed, must now be written down as the wealth and inheritance landscape grows fundamentally more complex and increasingly more global. Generational differences in world view mean that conflicts must be anticipated and planned for, and diversity must be accommodated. Fortunately, families across the Middle East are beginning to appreciate the importance of family governance, and there is a rising demand for professional administrative services throughout the region.


The adoption of family constitutions and investment policies is also increasing and financial structuring has evolved to include more sophisticated tools like Jersey funds and trusts.


The structuring options for inheritance and succession planning have advanced significantly in recent years while, in investments, fund and portfolio managers are rapidly introducing new products to meet the growing demand for ESG and impact investments.


The global wealth and financial landscape is fast shifting to accommodate next-gen priorities. Individuals, however, and their emotions are often much less willing to adapt.


Managing the emotional journey


The emotional process of succession is the stuff of TV tragedies. We can only imagine how much less entertaining the series would've been had Logan Roy enlisted the right advisers. In the real world, private wealth professionals have a pivotal role to play in the so-called great wealth transfer.
Often, an adviser's first priority, when dealing with families in the Middle East, is to resist the urge to impose or judge them by the standards of the west. Secondly, it is vital for both generations to see their differences as a business strength. Young and old can bring valuable insights to the boardroom, and advisers can facilitate them in understanding the perspectives of the other.


To achieve this, it is essential to bring all parties to the table early. Many advisers encourage founders to invite their children to observe PTC and company meetings. Initiating open conversations about long-term expectations for the business is crucial, and the sooner families start this dialogue, the better.


[1] DHF Capital, 2023
[2] Lombard Odier, 2022